Best Ford F-150 engine: The crème de la crème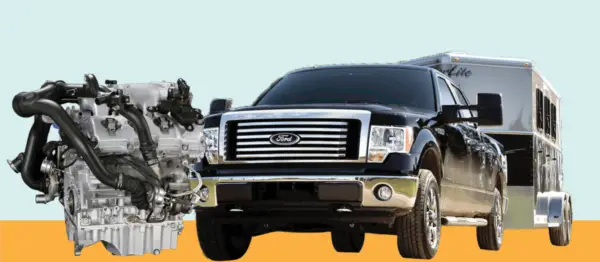 The best Ford F-150 engine from the 90's has to be the 1992 – 1996 9th Generation F-150 with either a 5.0L or 5.8L engine. 
The 13th Generation F150 made between 2015 – 2020 is reliable and looks like Ford got their mojo back after that because the 14th Generation is also a hit.
Since the 9th generation is hard to come by, we'll delve into modern-day engines and the 3.5L EcoBoost is easily the best Ford F-150 engine for all the right reasons which you will soon find out below.
Keep reading…
First, let's set the stage. The Ford F-150 is more than a pickup truck; it's an American automotive standard that has captivated drivers for generations. 
The F-150 has earned its deserved place as the best Ford truck for conquering difficult terrains and taking on every task that comes its way due to its unequaled performance, durability, and versatility. 
At the core of this iconic truck is an array of incredible engines, each with its own set of characteristics and capabilities.
There are jewels and flops among Ford's 14 Generations to date. For this article, we will concentrate on the jewels and limit ourselves to engines from the 9th Generation. 
That ought to cover the best Ford trucks manufactured after the year 2000. 
This post is for off-roading enthusiasts, dedicated haulers, and those looking for the comfort and distinction of the F150.  
We chose three  F150 engines from the current generation lineup. We'll look at the three based on engine power, beginning with the…
Best Ford F-150 engine - EcoBoost 2.7L
The Ford F-150's EcoBoost 2.7L engine initially appeared in the 2015 model year. Since then, it has been available in model years such as 2016, 2017, 2018, 2019, 2020, 2021, and beyond. 
The EcoBoost 2.7L engine represents the apex of advanced engineering. It combines the power of a V6 engine with the efficiency for which Ford is known.
The powerplant's turbocharged technology maximizes power production while minimizing fuel consumption.
The engine is loaded with outstanding features such as
2.7 liters displacement

V6 (six cylinders arranged in a V shape)

325 to 400 horsepower depending on the model year and any potential engine upgrades

375 and 500 lb-ft of torque based on the specific model year and engine version

Direct Fuel Injection
EcoBoost 2.7L V6 reliability
V6 engines are fairly dependable. For this engine, you're looking at a daily driver that can haul light loads while remaining sustainable.
If you are towing or using cars equipped with this engine for heavy jobs, you may encounter challenges that may lead to disappointment. But you can upgrade to the 3.5L engine that we look at next.
Speaking of challenges, we have problems with this engine.
4 Common Problems EcoBoost 2.7L
The first significant problem is carbon buildup in direct injection engines from 2015 to 2017. To decrease carbon buildup in the intake valves, Ford introduced direct injection and port injection, subsequent models. However, you can still use Walnut blasting, which can cost around $500, to help fix carbon buildup which is recommended at least every 100k miles.

Another significant issue was the cam phasers, which caused a lot of issues. On cold starts, this could be detected by severe engine rattling. Fortunately, regular oil changes have been identified as a potential strategy to avoid the cam phasers failing. By "regular," we mean shortening service intervals by at least 2000 and 3000 miles based on the manufacturer's range recommendation.

High-pressure failure. Symptoms include rough running or the check engine light.
This is a new engine in the F-150 lineup; for what it's worth, you may have a terrific ownership experience but that depends on your usage needs and how you take care of the engine. For that reason we advise caution.
Best Ford F-150 engine - 3.5L EcoBoost
Starting in 2011, the 3.5L EcoBoost V6 engine was used in the Ford F-150, making it one of the best-selling pickup truck engines in America. 
The engine had a double turbo system as well as two overhead camshafts. To say the least, the power output of this engine is remarkable.
Let's dive into the key features that make this engine a top choice for truck owners:
Twin – Turbochargers for an added boost

Direct Fuel Injection for efficiency 

Twin Independent Variable Camshaft Timing (Ti-VCT) for precise control over the engine's intake and exhaust valves
The 3.5L EcoBoost engine produces an incredible amount of horsepower and torque. The exact figures will vary depending on the model year and any prospective modifications, but the 3.5L EcoBoost engine produces plenty of power and torque, making it perfect for towing and hauling hefty loads.
The Ford F150's 3.5L EcoBoost V6 engine generates a tremendous amount of power. The towing and acceleration capacities are outstanding. The combination of direct fuel injection and turbocharging becomes your best companion when you most need power.
Another aspect that makes this engine a favorite among North American truck owners is the towing capacity. Due to its exceptional performance, you can do challenging towing tasks with ease.
The 3.5L EcoBoost V6 engine in the Ford F150 delivers tremendous torque without sacrificing fuel efficiency. Direct fuel injection and turbocharging technology enable this engine to smoothly balance power and fuel.
3.5L EcoBoost reliability
Due to issues with carbon buildup in direct injection engines, an upgrade was required to add port fuel injection, turning this engine into a dual fuel system. 
The dual fuel injection system made its debut in 2017 and later models, which enhanced performance and reduced owner frustration. 
The only timing chain on the 3.5L Ecoboost's first-generation model failed frequently. The difficulties with the first Gen model were resolved by the addition of a second chain in the upgraded model year of 2017. 
Engines introduced after 2017 are excellent. They mimic the driving dynamics and performance of the majority of V8 engines.
The 3.5L can be tuned to outrageous performance for the tuning community and enthusiasts.
As a result, the 3.5 Ecoboost is the sweet spot for F-150 engines. Also holding the title for the best f150 engine 2023.
Best Ford F-150 engine - 5.0 Coyote
The 5.0 Coyote engine, which was introduced in 2011, is a powerful and dependable V8 engine found in Ford F-150 pickups. It's named after the coyote, a versatile and hardy animal, which gives you an indication of the engine's potential.
The first generation, like the Eco boost engines, was modified in 2018 to address issues such as timing chain failure.
That was the engine's only devastating fault.
Overall, the build was amazing, especially after the update.
The 5.0 Coyote engine's excellent performance is one of its notable characteristics. It produces a considerable amount of horsepower and torque thanks to its 5.0-liter displacement. This means you'll have enough power to play with, whether pulling hefty loads or speeding swiftly on the highway.
Key features of the 5.0 Coyote engine
The engine of the 5.0 Coyote is a V8. Its construction delivers enough power and torque, making it perfect for hauling heavy loads and navigating difficult terrain.
Engine displacement: The engine has a capacity of 5.0 liters. The normally aspirated V8's lack of low-end torque, on the other hand, is a significant disadvantage.
Ti-VCT (Twin Independent Variable Camshaft Timing): This cutting-edge technology enables precise management of the engine's intake and exhaust valves. The engine optimizes power delivery and increases fuel efficiency, and overall performance by altering the timing of these valves.
The 5.0 Coyote engine uses direct fuel injection, which means that fuel is pumped directly into the combustion chamber. This technique improves fuel atomization, resulting in more efficient combustion and better fuel economy. The V8 engine's fuel consumption is not noticeably different from that of the V6 Turbo Engines. 
Durability: Ford designed the 5.0 Coyote engine with longevity in mind. It has a strong build and uses high-quality materials, ensuring reliance even under extreme situations. This engine is designed to withstand the rigors of regular use and to function consistently over time.
Low-Maintenance Design: The engine is built for simplicity and to make everyday duties a breeze. This includes oil changes and other basic maintenance procedures, allowing owners to spend less time on maintenance and more time enjoying their F-150.
Integrated Technology: To improve performance and economy, the 5.0 Coyote engine includes cutting-edge technology. To monitor and enhance engine performance, it may contain technologies such as electronic throttle control, complex engine management systems, and onboard diagnostics.
Exhaust Note and Sound: The 5.0 Coyote engine has a characteristic V8 rumbling that many enthusiasts enjoy. The exhaust tone is frequently modified to improve the engine's acoustic appeal and provide a pleasing sound during acceleration.
5.0 Coyote engine reliability
Is the Ford 5.0 V8 a good engine? When it comes to longevity, the 5.0 Coyote engine delivers.
This engine has proven to be reliable as well as capable of withstanding harsh conditions, making it a good choice for both work and daily driving.
With just a fraction of the technology used in the Ecoboost engines, this is easily the most reliable F150 engine. 
As long as you avoid the 1st Generation, which had a design fault with the timing chain, this is a dependable engine after 2018. 
Avoid any Coyote engine with a 10-speed automatic transmission. The engine is a headache, which isn't the case with the Coyote's six-speed transmission. That hints at the problem, doesn't it?
This comes highly recommended by us.
best ford f150 engine FAQs
best ford f150 engine for towing
Because the 5.0L naturally aspirated engine lacks low-end torque, towing may result in high RPMs and increased fuel consumption. Possible figures might be around 5 miles per gallon, which is awful, to put it mildly.
The 3.5L Eco Boost, on the other hand, offers adequate low-end torque to help you pull easily up the hills while getting better mileage. In terms of torque output, the 3.5L Eco Boost is practically on par with diesel engines. In our opinion, this is the best option for towing.
Which F-150 has the best fuel economy
When it comes to fuel economy, the 2.7L F-150 engine performs well when compared to higher displacement engines. It is important to remember, that real fuel efficiency might vary depending on a variety of factors such as driving behavior, vehicle weight, road conditions, and payload.
The 2.7L F-150 engine is EPA-rated to achieve roughly 20-23 miles per gallon (mpg) in combined city and highway driving. This rating may differ significantly depending on the F-150's model year, trim level, and drivetrain setup.
ford truck engines to avoid
The worst F-150 generation was the 10th, which used 5.4L triton Ford engines. The 3-valve triton has been discussed as the worst Ford engine to avoid.
The legendary Ford F-150 is an essential component of American motoring culture. This winds up our highlight of the best of the best in the Ford F-150 world.
Based on this comprehensive review of the best Ford F-150 engine, we hope you can now select your best fit. You can find out the Ford F150 engines to avoid in the link below on worst Ford engines.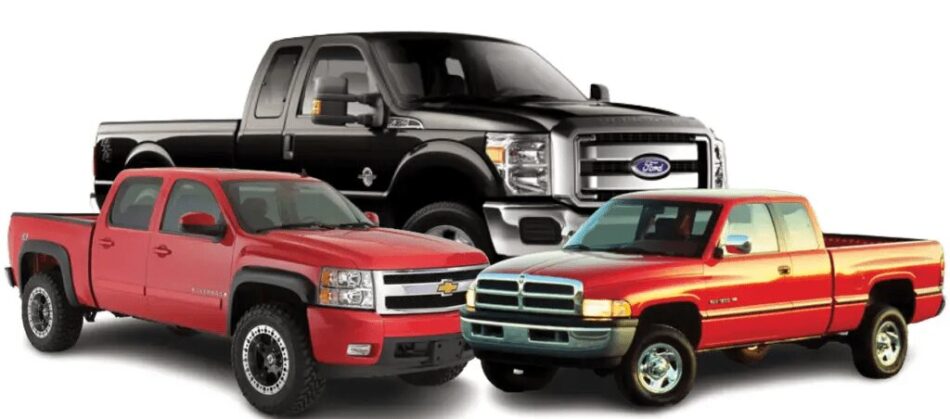 Reliable pickup truck engines