V8 or Nothing: The Best BMW V8 engines
Let's discuss the best BMW V8 engines ever made. The thrill of a finely tuned V8 engine is something that all car enthusiasts yearn for.
These engines necessitate high-level maintenance and a healthy budget. But, hey, that's the cost of happiness!
Power and high performance in internal combustion engines are best experienced in engines with 8 or more cylinders. We look into the best BMW engine for power and also the best BMW engine to modify. 
As we dig into the best BMW V8 engines, we'll look at the features that distinguish each of these engines, from advanced engineering to cutting-edge technology. We also look at the dreaded topic of reliability. We'll discuss the best BMW engine reliability wise in this category.
So strap in and prepare to embark on an epic journey as we narrow down on the  best V8 BMW!
Best BMW v8 engines - M60B40 engine
The M60B40 engine was an all-aluminum, DOHC (dual overhead camshaft) design with four valves per cylinder. This 4-liter displacement engine was manufactured between 1992 and 1996.
It was a marvel in the 1990s, with raw power and speed. The figures are indeed impressive, we're talking about a 0-60mph time of 6.5 seconds.
The M60B40 engine includes several advanced technologies, such as the VANOS variable valve timing system and the dual-mass flywheel, which help to improve performance and fuel efficiency.
It's not on the best BMW V8 engines list by accident because the features are quite impressive.
Notable features of the M60B40 engine
As discussed above, the M60B40 engine has a dual overhead camshaft (DOHC) design with four valves per cylinder to improve airflow and combustion efficiency.
Additional features include:
Individual ignition coils on plugs

VANOS (variable valve timing) system.

Cast iron block with high durability and resistance to wear and tear.

Aluminum cylinder heads are lighter and more resistant to heat than cast iron cylinder heads.

Instead of a timing belt, a timing chain is more durable and less prone to failure.

A high compression ratio of 10.0:1 aids in performance and fuel efficiency.

Dual-mass flywheel, which aids in engine vibration reduction and smoothness.
M60B40 engine reliability
Overall, the M60B40 is a reliable and long-lasting engine. This is among the best BMW engines based on reliability. With proper maintenance and care, the engine can clock 200,000 miles or more.
The design and construction of an engine are critical factors in determining its reliability and durability. The cast iron block and aluminum cylinder heads are important features of the M60B40 engine.
That alone is insurance on the engine's durability because it can withstand high temperatures and pressures.
Furthermore, the engine uses a timing chain rather than a timing belt, as was common in engines of the time. Timing belts have a shorter service life and break more frequently than timing chains.
The M60B40 engine is a simple engine with fewer complicated components than other engines. This simplicity makes maintenance and repairs easier, and it reduces the likelihood of component failure.
For that, we consider this one of the best BMW V8 engines out there.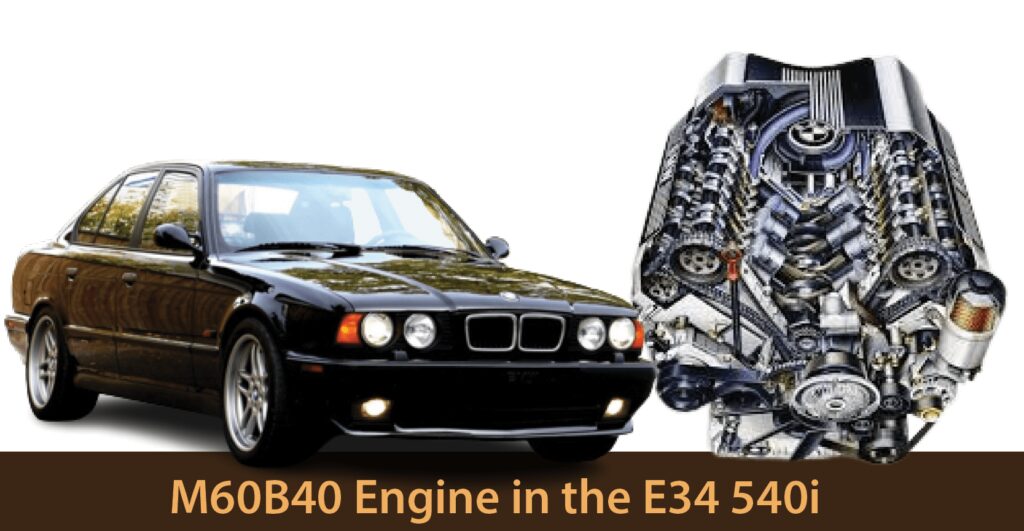 However, if this engine is not properly maintained, it may develop problems. Some of the issues to anticipate include::-
Valve cover gasket leaks

Valley pan gasket leaks

Oil pump bolts backing out

Failing cooling system parts 

Vacuum leaks from intake gaskets and PCV plates cause a rough idle
It's possible that those are maintenance issues rather than design flaws. To keep the engine working longer, it is advised that you follow the following maintenance procedures.
Regular spark plug replacements, cooling system and other component inspections, and oil changes.

Use premium oil and filters.

Regularly checking the water pump, radiator, and hoses in the cooling system can assist to stop problems before they worsen.

It's critical to solve any unexpected vibrations, noises, or performance concerns with the M60B40 engine as soon as you become aware of them.

Avoid extreme driving situations that could damage the M60B40 engine and other components, such as continuous stop-and-go traffic or high speeds.
BMW vehicles using the M60B40 engine
During its production run, BMW used the M60B40 engine in a variety of models like:-
E34 540i – produced in 1992 

E38 740i – produced from 1994 to 1996

E31 840Ci – produced from 1994 to 1997

E39 540i – produced from 1996 to 1998
Best BMW V8 engines - S65 engine
The S65 engine is another V8 engine that debuted in 2007 and makes it to our list of best BMW V8 engines.
This engine is regarded as one of the best high-performance engines of its time and is still a popular choice among car enthusiasts.
The fact that this rig is powering iconic cars like the E90/E92 M3 models and the Z4 GT3 race car speaks volumes about the performance-oriented engineering that was used in this rig.
BMW engineers designed the S65 with a variety of advanced engineering features, including lightweight materials, an advanced induction system with eight individual throttle bodies, which we'll go over shortly.
Notable features of the S65 engine
The lightweight design of the S65 engine contributes to the vehicle's overall performance and handling.
Notably, the engine's aluminum block and head, as well as its lightweight components, contribute to the engine's overall weight reduction.
The S65 has one of the highest redlines of any production V8 engine, at 8,400 RPM. This high redline allows the engine to deliver more power and performance at higher RPMs and exceptional power and performance throughout the rev range.
Standard features include:
4.0 liter V8 Engine 

The S65 engine produces 414 horsepower and 295 lb-ft of torque

Double-VANOS variable valve timing

Advanced oil cooling system
The S65 engine, like any other performance engine, has its share of issues. For the record, you can comfortably manage this engine with preventive maintenance and manufacturer-recommended outlines.
However, factors such as driving style, maintenance practices, and environmental conditions may result in different ownership experiences.
Rod bearing failure is one of the most noticeable problems with the S65 engine. This is frequently attributed to the engine's high-revving nature, which can put additional strain on the bearings.
Regular oil changes with the recommended oil type and viscosity, as well as inspection and replacement of worn or damaged bearings, can help to avoid this problem. Some owners have discovered that switching to aftermarket bearings can improve durability and longevity.
According to reports, dirty oil is the leading cause of rod bearing failure, so changing your oil regularly can save you a headache.
Another common problem with the S65 engine is VANOS failure, which can result in a loss of power and acceleration. To restore engine performance, the VANOS solenoids or the entire VANOS unit may need to be replaced.
Another common issue with the S65 engine is throttle actuator failure, which can result in poor throttle response and engine power. To restore engine power and acceleration, the actuator motor or gears may need to be replaced.
Despite these common problems, the S65 engine is widely regarded as a dependable and long-lasting engine when properly maintained.
BMW vehicles using the S65 engine
The S65 powered notable BMW models like: 
E90/E92 M3 introduced in 2007

E93 M3(convertible variant) 

Z4 GT3 race car

M3 GTS

1M Coupe

M4 DTM from 2014 to 2016

M6 GT3
Best BMW v8 engines - S62 engine
The S62 engine debuted in 1998 and was exclusively used in the BMW E39 M5.
The engine was influenced by the earlier S50 and S52 engines. It had significant changes and upgrades. Larger displacement improved intake and exhaust systems, and more advanced engine management technology are just a few examples.
The result was an engine that performed admirably. As a mark of honor – it is one of the best BMW V8 engines. This naturally aspirated V8 engine generated 394 horsepower and 369 pound-feet of torque.
The S62 engine is still used in performance builds and custom projects after nearly three decades, and many owners cherish and maintain their E39 M5s religiously. 
Notable features of the S62 engine
The S62 had fantastic features including:-
Dual overhead camshaft with four valves per cylinder. 

It has a displacement of 4.9 liters 

Aluminum block and cylinder heads, help to reduce weight and improve heat dissipation. The block is designed with a closed deck structure and cross-bolted main bearing caps for added strength and durability.

A forged steel crankshaft, connecting rods, and pistons, provide increased strength and durability over traditional cast components

High-pressure oil system which ensures consistent performance even under extreme driving conditions

Dual VANOS (Variable Valve Timing and Lift) system

Electronically-controlled throttle system for improved throttle response
The S62 engine is not a problem for a V8 engine. Notably, the following are the most common issues with this powerplant, as well as potential solutions:
The VANOS system on the S62 engine is prone to failure due to a worn or damaged solenoid, which can be replaced to restore proper function.

This engine may experience cooling system issues such as leaks and overheating. Regular inspection and replacement of worn-out cooling systems components, such as the radiator, water pump, thermostat, and hoses, are preventive measures.

Rod bearings are susceptible to premature wear, which can cause engine damage and failure. It is recommended for preventive maintenance to replace the bearings at regular intervals and to use high-quality bearings.

The crankshaft position sensor in the S62 engine is known to fail, resulting in a variety of engine issues such as rough running and stalling. If you must replace the sensor after diagnostics, use a high-quality sensor recommended by the manufacturer.

It is critical to check and maintain proper oil levels regularly and to use high-quality synthetic oil according to the manufacturer's recommendations. Because this is a performance engine, copious amounts of oil are burned to keep all of the parts running smoothly.

Throttle Body Failure causes engine problems such as rough running and reduced power output. To resolve this issue, a new, high-quality throttle body must be installed.
BMW vehicles using the S62 engine
BMW didn't stretch the applications for this engine. It is not a wonder that just a few models were mated to this engine.
E39 M5 produced from 1998 to 2003 

E52 Z8 grand tourer produced from 1999 to 2003

Alpina B10 V8 was produced from 1997 to 2003. 

Alpina V8 Roadster convertible produced from 2002 to 2003
While BMW is not the most reliable brand ( read this article on BMW engines to avoid..they still produce some impressive machines with a focus on performance, efficiency, and cutting-edge technology.
The engines we discussed above are, in our opinion, the best BMW V8 engines. I hope this helps you choose a suitable engine.
Top picks on BMW engines​​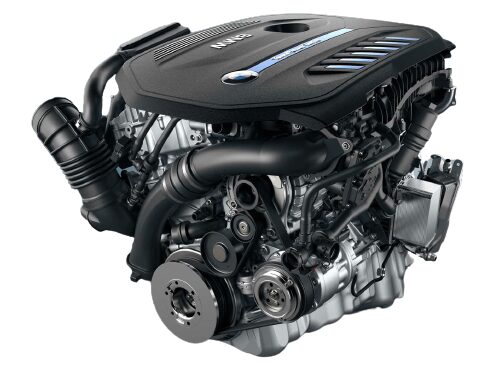 Most Reliable BMW Engines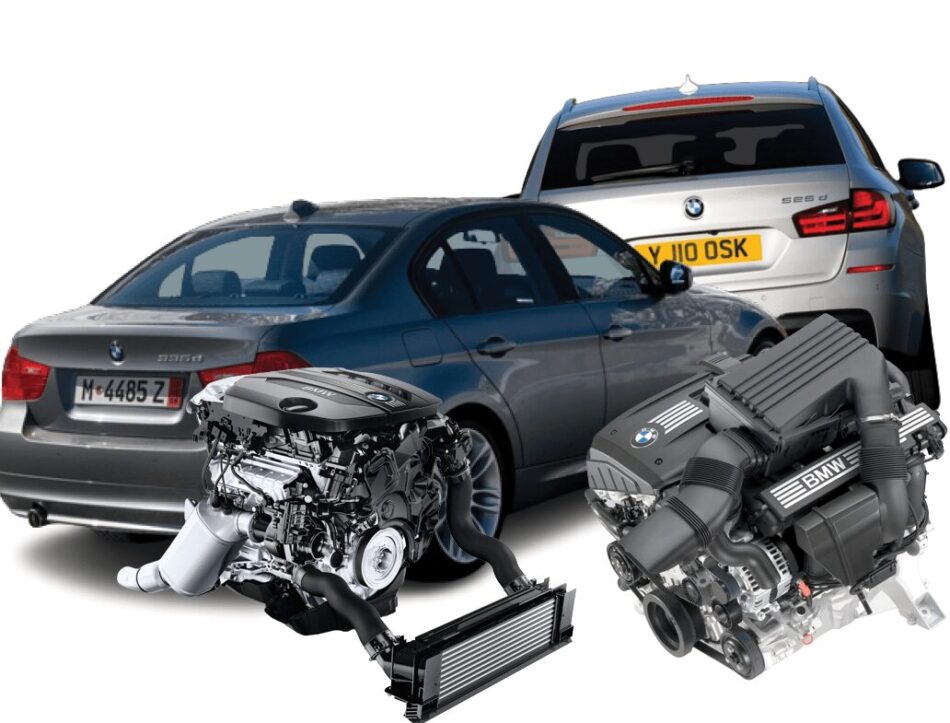 reliable BMW diesel engines

Most reliable BMW X5 Engine